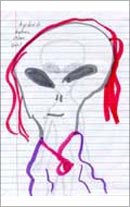 Watching too much Invader Zim?
aliensandchildren.org::Alien Drawings by Children — The introduction to the site gives you a glimpse of what you are about to experience! Make sure to check out the "thought screen human hats."
This website features a series of drawings made by children who were abducted by aliens for the alien purpose of creating a new race of alien/human hybrids.
found by Paul Saffo