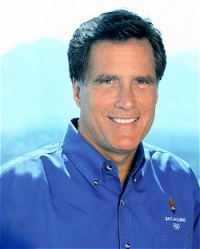 Needs more wives! Ladies?
Romney Family Tree Has Polygamy Branch — As I have said for almost two years the Republicans have it in their plans to run McCain and Rudy in 2008. It's pre-decided and can only be sidetracked by some punk like Romney actually messing up the scheme. So this non-news story comes out just to remind people he is a Morman and golly, isn't that terrible.
This is so tranparent. Even the way this article is written makes me laugh.
While Mitt Romney condemns polygamy and its prior practice by his Mormon church, the Republican presidential candidate's great-grandfather had five wives and at least one of his great-great grandfathers had 12.

Polygamy was not just a historical footnote, but a prominent element in the family tree of the former Massachusetts governor now seeking to become the first Mormon president.