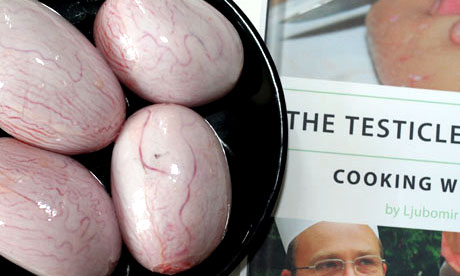 Lamb Eggs. Rocky Mountain Oysters. Spring Roe. Cowboy Caviar. Montana Tendergroins. While the rest of the world dreams up user-friendly names for dishes cooked with testicles, Serbian chef Ljubomir Erovic has no such qualms, as his widely-blogged Testicle Cookbook – Cooking with Balls vividly confirms. Ljubomir, who also runs the ever-popular World Testicle Cooking Championship is a man on a singularly testicular mission…

On the other hand, it's hard to ignore the charm of a recipe that begins "wash penis clean and pat dry" (stew with bull penis) or the romantic appeal of heart-shaped turkey testicles, and the instructional videos scattered throughout the pages show Erovic to be a man of great charm and unbridled enthusiasm…

And so I head up to the the halal butchers of London's Green Lanes to track down my ballsy bounty, strike lucky in the first shop I enter, and return home to rustle up some pizza. The recipe is pretty straightforward – a basic dough, tomato paste, chopped onion, chopped red pepper, cheddar cheese and the testicles – but it's not an altogether happy result. The slices of testicle are wet and soft, and their delicate flavour doesn't match the rest of the dish. My suspicion is that Erovic has created the recipe to lure in the less adventurous diner, as if to pretend that these lamb berries are a perfectly normal ingredient.

I have more luck with my second dish, the battered testicle fritter. The nads are first marinated in lemon juice, parsley, olive oil and pepper before being fried in a simple batter, and the results are stunning, like miniature, elegant Wiener schnitzels. Emboldened, I've set next weekend aside to try Testicles A La Dime Vuk from Kratovo, a bold concoction that attempts to marry "5 pairs of testicles of castrated pigs" with Komovica grape brandy.
Mmmm-mmmmm.
---