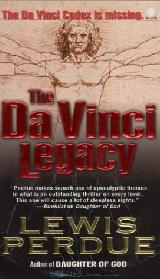 What's this, then?
Da Vinci Crock __ Author Lewis Perdue has been in the midst of a legal battle over alleged plagiarism and the best-selling DaVinci Code. You have to read all of this material to appreciate the problem. The problem is that the DaVinci Code has sold an ungodly number of books and nobody would ever want to admit that the material was lifted from another book, if it indeed was lifted. In this case Perdue says it was lifted from his book, the DaVinci Legacy. I'm actually surprised that the bloggers haven't gotten on this one since Perdue's story is compelling. He's the guy who is responsible for the notion that red wine makes the French live longer. That was another book.
I've known Perdue for quite sometime and he is an honest man. This situation is baffling since most of these cases are settled fast, usually with a simple fee schedule whereby the lifted passages are each worth so much money. Unfortunately when the book becomes such a monster hit and millions and millions of dollars are involved (and movie rights) the process gets complicated and it is apparently cheaper to fight it. Read Perdue's tale for yourself and you decide. The link here — the DaVinci Crock — is a new blog, but there is plenty of material on his homepage and his Davinci page too.
Sometimes the most important things are those that are not there. Such as an affidavit from Dan Brown attesting that he conducted the "extensive research" he claims and that he actually wrote The Da Vinci Code.

In both their previous filings, Random House has repeatedly cited the extensive research that Dan Brown allegedly conducted for The Da Vinci Code as evidence that he didn't need to plagiarize me.

Take, for example, the bottom of Page two of this filing which says, "The factual foundation to Da Vinci Code — from which the fictional novel emerges — is based on extensive interviews and research that Brown had conducted…."
Nobody in the mainstream media wants to touch this story, by the way.