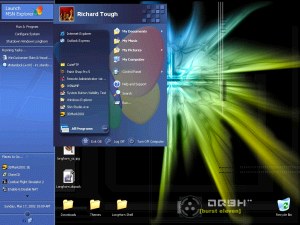 Preview reviews of Microsoft's ballyhooed Longhorn release are beginning to appear and this tireade, I thought, was worth blogging as Dvorak Uncensored member Keith Burel rants about what to expect from Longhorn. If you don't want to read the essay, the answer, in advance, is "not much." Upon reading this and the Case review here I'm most baffled by Microsoft's inability to change the look and feel of the OS, especially the iconographic designs. How much would that cost anyway? Next to nothing is my guess.
Anyway this essay reads between the lines of the review and I think may have struck gold early on with the comment that Longhorn is "just SP3."
Burel Reading Between the Lines

Like a sufferer of Tourette's syndrome, I need to vent my pent-up reactions whenever I read a preview to a new release of Windows. Here I go…. [insert peculiar sounds and motions here]:

The preview of Longhorn illustrates why "shit" becomes my most oft used vocabulary word for several weeks after I first install a new version of Windows. At Microsoft, it's always about reinventing the wheel.

Case: "When you first bring up the Longhorn desktop, you could just as well be looking at the Windows XP desktop…."

That's already a pretty good sign that it's just SP3.

"As you start to drill deeper, though, nifty little refinements become apparent."

My heart starts to sink. I've seen these buzz phrases before– "nifty little refinements"– they always spell h-a-s-s-l-e.

"If you're like me, your programs menu has no doubt become a massive, unwieldy list of programs.."

I'm never like the reviewers. Never. What is so unwieldy about a list in alphabetical order? I already smell another wheel ready to be re-invented.

"In this build, a scrolling list of your programs is built in a sub-window on the left side of the start menu."


Somebody tell me how to disable it.. NOW!.. before I scream!!!

"Also, a small dialog entry box lives at the bottom of the start menu. If your list of applications is very long, just start typing an app name in this box. As you type, Windows will make a guess as to the name.."

Oh wonderful, we all know how well Windows "guesses" what you *really* intended.

"It's a great boon for users with tons of programs."

Well, I guess users who use words like "tons" to describe how many programs they have will really enjoy it. They're the ones who can't find a program within the alphabetized list.

"Opening up "My Computer" gives you a more pictorial view than seen in Windows XP."

"Pictorial" — yes, if there is one word to describe what Microsoft deems "innovation," it would probably be "pictorial." Much of my time setting up Windows is invariably turning off all of the "pictorial innovations."

"Bar charts instantly give you a feel for how much space is left on your storage devices. One thing you'll notice as you drill down into folders—the "up" icon is now gone. Mostly, you'll navigate the folder structure with forward and backward icons.."


Now this is what I call a revolution in computing– up arrows replaced by back-and-forth arrows. That's what I call a leaner, meaner operating system.

"You can have multiple shortcuts to the same documents in different lists, allowing you to think in a multidimensional way, rather than trying to work within the straightjacket of a hierarchical folder structure."

We waited how many years for this?

"Oh, and the search puppy is gone (to much rejoicing)."

I haven't seen the search puppy since day one– I killed him immediately. Well, not quite immediately. I still remember that when I disabled him, I had to watch him wag his tail and walk off into the distance before he disappeared. And he didn't walk away fast either. Idiocy.

"Finally, there's good old Internet Explorer. This particular build only contains a version of IE6"

Now I am ROFLMAO. Still IE6 ??????

"Meanwhile, this release seems snappier than past versions.."

Ziff Davis *always* gets this punchline into the Windows reviews with each new release. In the next article, we'll no doubt hear about a faster boot.

Now let me step back and guess what Lloyd Case was really thinking when
he was told to write this article:

DAY 1. Longhorn Demo arrives. "I'll work on it tomorrow."

DAY 2. Installs Longhorn Demo. "I'll play with it today and tomorrow."

DAY 3. Tinker tinker tinker.

DAY 4. "Damn. Where are the features they promised ????"

DAY 5. Begins to sweat.

DAY 6. "Report is due tomorrow. There's nothing to report!!!"

DAY 7. Bulb appears over his head. "I'll find a few cosmetic changes to the interface and label them 'nifty little refinements.'" Report submitted; editors happy.

— K B [Keith Burel]

P.S. I feel better.