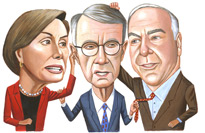 In a perfect world, with Bush's polls in the toilet and the country realizing he, the religious right and the fascistic neocons took them for a ride, any normal, sane opposition would be working like crazy to capitalize on all of this. Instead, we live in this world where we've got these guys.
The Three Stooges – Nancy Pelosi, Harry Reid, and Howard Dean

According to the latest CBS News poll, George W. Bush's approval rating hit a personal worst of 34 percent in February, making him the most unpopular president since Nixon during Watergate. Thanks to the Abramoff scandal, confidence in the Republican-run Congress is only two points higher. Such numbers naturally provoke Democratic fantasies about doing in 2006 what Republicans did in 1994, taking both houses in a historic sweep. Conditions seem ripe in many ways. But Democrats do not have a charismatic schemer like Newt Gingrich to lead the way. Instead, they have Nancy Pelosi, Harry Reid, and Howard Dean.
Since assuming their positions, the three of them have shown themselves to be somewhere between useless and disastrous as party leaders. Individually, they lack substance and policy smarts (Pelosi); coherence and force (Reid); and steadiness and mainstream appeal (Dean). Collectively, they convey an image of liberal elitism, disarray, and crabbiness.