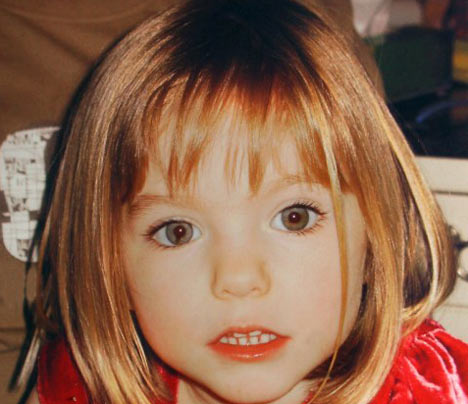 Most people in this country have never heard of and the Belgian pedophile ring that allegedly involves government officials of the highest rank. Dutroux is currently serving life for murder, but it was revealed in court that he was just a small player in a much wider and powerfully connected group of pedophiles.
According to an a child abduction ring based in Belgium placed an order for a "young girl". Three-year-old Madeleine was spotted while on holiday in Portugal by someone connected to the gang who took a picture of her. The photograph was sent back to Belgium where the paedophile ring agreed that she should be abducted, the email states.

Three days later on May 3rd last year Madeleine was taken from her family's holiday apartment in Praia da Luz in the Algarve while her parents ate at a nearby restaurant. The astonishing revelation supports Kate and Gerry McCann's long-held theory that their eldest child may have been taken by a child smuggling ring. The email, sent by an intelligence officer on the Met's vice squad on March 4 this year to counterparts in the Portuguese and Leicestershire police, marks a significant development in the case of the missing girl. Just last month Portuguese police closed their investigation and cleared the McCanns of any involvement in their daughter's disappearance.

The email was revealed for the first time in police files made public this week.

It said: "Intelligence suggests that a paedophile ring in Belgium made an order for a young girl three days before Madeleine McCann was taken. "Somebody connected to this group saw Maddie, took a photograph of her and sent it to Belgium. The purchaser agreed that the girl was suitable and Maddie was taken."


Paulo Rebelo, the head of the police investigation into Madeleine, ordered that the information be placed in the case file. The inquiry was then shelved on July 21, less than two months after Interpol was told there was no further information about the paedophile ring. Belgium has featured in the case already. There was an alleged sighting last August in Tongeren on the Dutch Belgian border but it was later ruled out. The country was at the centre of one of the most notorious paedophile investigations of recent years which saw Marc Dutroux jailed for life in 2004 after being convicted of kidnapping, raping and murdering young girls. He was found guilty of kidnapping and raping six girls, killing two of them and causing the deaths of two others. The case surrounding Dutroux, 47, an unemployed electrician and a convicted paedophile, shocked Europe in the mid-1990s.

A friend of Mr and Mrs McCann added: "Trafficking into Belgium forms a very strong part of their investigation as does trafficking into north Africa. "There is definitive hard evidence that this is very much alive and happening and they have looked into the fact that someone was targeting children and they may well have been stealing to order."
Follow the link to learn more. It's a disturbing story of sex parties, snuff films involving children and teenagers, and government complicity that was a huge story in Europe, and was mostly ignored elsewhere.
---