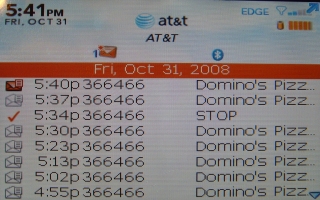 Domino's Pizza text message server has gone berserkers! In a strange digital trick-but no-treat, it is messaging some customers up to ten times per hour. For hours on end!
Customers who have ordered online and checked the box to have periodic specials SMSed to them are getting a message box full!
The local stores have no way to stop it. Domino's has no phone number to call. The Domino's email form said that no one's gonna read things until office hours start again.
There are, of course, no Domino's representatives to comment.
DING-DONG! Get the frigging text message! It's @#$@#@!%!! Domino's … AGAIN!
---