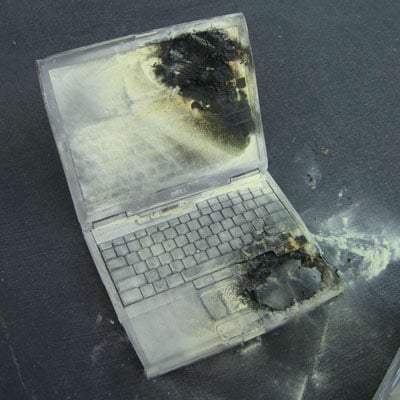 Last time around
Three of the biggest laptop computer makers are recalling certain batteries because of a risk they may overheat and catch fire. Sony made the batteries and the recall mirrors — yet appears a lot smaller than — a similar one that occurred two years ago.

This time, around 100,000 batteries are affected, a fraction of the 9.6 million recalled in 2006. Dell, Hewlett-Packard and Toshiba have already issued recalls for the batteries that were used in their products and the U.S. Consumer Product Safety Commission said "consumers should stop using recalled products immediately."

The batteries in question were manufactured between October 2004 and June 2005 and to date there have been about 40 incidents reportedly globally of overheating, said Sony.

Of the 100,000 batteries affected, around 35,000 were used in laptops shipped in the U.S. By far the greatest number, about 32,000, were shipped with HP laptops.
Identifying codes are in the article. Click the link above to see if you're one of the lucky ones.
---