WARNING: Audio NSFW
No cows were harmed in this video
I have a feeling that PETA might not approve. Couldn't find any writeups from anyone who actually tried it with a cow, but there are a bunch via Google who have written about going to this place, so it does exist. Here's one of them. Here's another:
Ever feel like blowing up a cow? Well, in the Phkor Lan Club shooting range, you can. You could shoot AK47s (which Mike actually did) for US$20, or a rocket launcher for US $200. For an extra US$200, you could shoot a rocket launcher at a cow (although this was not mentioned on the menu). The fact that this kind of stuff was on offer meant that there was actually demand for this crazy stuff. I, personally, could not understand the attraction with actually firing weapons that were once used in war. To me it seemed like an insensitive thing to do after visiting such solemn reminders of the brutal power of gun wielding lunatics. Mike informs me that it is a guy thing. Whatever.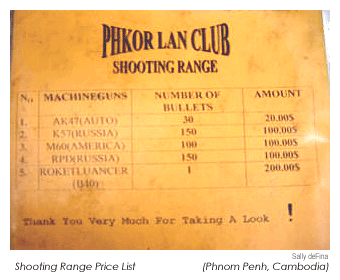 So, what did you do on your summer vacation?
---