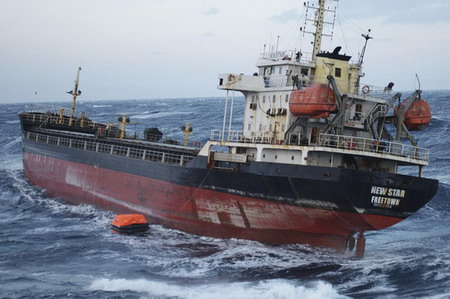 Why are there so many pictures of this ship?
— This story is developing as it is being suppressed. The first reports had it carrying a stolen Russian nuke and that is why it was sunk, since the Chinese refused to cooperate with the Russians. The story has since morphed into the ship carrying stolen rice… so the Russians sunk it. It's destination — Seattle — also seems to have fallen off the reports and apparently the ship now had no destination. And, of course, no reporter seems to be on the story. It's fishy, but that's all we know and I doubt we will get to know much more.
According to Russian and Chinese newspapers, the New Star had been held in Nakhodka on suspicion of smuggling, but had left port without notifying the authorities. A Russian naval cruiser set off after it.

The Chinese reports accused the Russians of not responding to the cries of help from the cargo ship as it began to sink. Although all 16 crew made it to the two lifeboats, one overturned in force 6 winds.

The Russian Interfax news agency said an empty lifeboat had been recovered and attempts were continuing to find the bodies of the remaining eight crew.

Russia and China have drawn closer in recent years, largely as a strategic alliance to counterbalance what both see as bullying American hegemony.
None of the reports are coherent.
Now if you want to read the conspiracy of the decade, then which says the ship, the nuke and the rest of it was a CIA false flag operation designed to get the USA involved in some mess by setting off a nuke and blowing up Seattle or some West Coast town, I guess. Entertaining for sure. With the Russians sinking the ship, I guess we will never know. Apparently they did not sign on to the arrangement.
Most disturbing about these reports are them stating that the New Star is owned by the J Rui Lucky Shipping Co Ltd. which is a private limited company registered in Hong Kong and has long been known by Russian FSB Analysts to be an International shipping carrier of US Military and CIA cargo to support their Global War on Terror under contract with the American giant services company KBR [Halliburton] whose former leader was US Vice President Cheney.

These reports further state that President Obama and the Globalist elite he represents are now 'desperate' in their attempts to stage a 9/11 type false flag operation in order to complete the subjugation of their citizens prior to the expected outbreak of massive social unrest they state will be occurring during the coming summer months as their economy continues to implode.
Is THIS what Joe Biden was talking about when he told us to get ready for something weird? What happened to him, anyway? Then again, this story, when read in its entirety, has the crackpot earmarks written all over it.
---