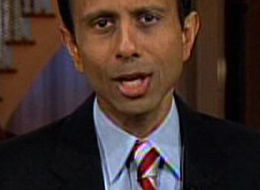 This is the guy the conservatives were looking to run for Prez in 2012? If the
Kenneth comparisons
and his
response being panned
even by Republicans didn't sink him, this will take him to the bottom. Hasn't he heard that reporters — MSM and especially bloggers — do fact checking? Didn't anyone from the RNC read his speech beforehand?
"Let me tell you a story.

During Katrina, I visited Sheriff Harry Lee, a Democrat and a good friend of mine. […] The boats were all lined up ready to go – when some bureaucrat showed up and told them they couldn't go out on the water unless they had proof of insurance and registration. I told him, 'Sheriff, that's ridiculous.' And before I knew it, he was yelling into the phone: 'Congressman Jindal is here, and he says you can come and arrest him too!' Harry just told the boaters to ignore the bureaucrats and start rescuing people."

Really? Did this really happen? Let's see what Jindal was saying in August-September of 2005, during the Katrina disaster.

Katrina hit when Congressman Jindal was returning from a foreign trip. His family evacuated to Baton Rouge, and met up with Jindal at his parents' home. Two days after Katrina passed, Jindal took an aerial tour of the disaster area. It is not clear when he went back on ground. But it is highly unlikely that he was there during first few days. When did he go to this Sheriff's office?
Lots more about this from various sides here.
---