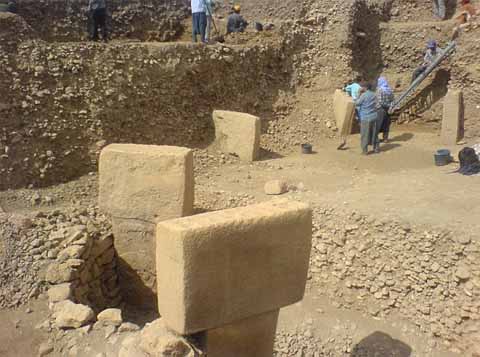 A
fascinating article
about a fascinating place. If you have
Google Earth
installed, enter 'Gobekli Tepe, Turkey' to check it out from the air.
For the old Kurdish shepherd, it was just another burning hot day in the rolling plains of eastern Turkey. Following his flock over the arid hillsides, he passed the single mulberry tree, which the locals regarded as 'sacred'. The bells on his sheep tinkled in the stillness. Then he spotted something. Crouching down, he brushed away the dust, and exposed a strange, large, oblong stone.

The man looked left and right: there were similar stone rectangles, peeping from the sands. Calling his dog to heel, the shepherd resolved to inform someone of his finds when he got back to the village. Maybe the stones were important.
[…]
To date, 45 of these stones have been dug out – they are arranged in circles from five to ten yards across – but there are indications that much more is to come. Geomagnetic surveys imply that there are hundreds more standing stones, just waiting to be excavated.

So far, so remarkable. If Gobekli Tepe was simply this, it would already be a dazzling site – a Turkish Stonehenge. But several unique factors lift Gobekli Tepe into the archaeological stratosphere – and the realms of the fantastical.

The first is its staggering age. Carbon-dating shows that the complex is at least 12,000 years old, maybe even 13,000 years old.

That means it was built around 10,000BC. By comparison, Stonehenge was built in 3,000 BC and the pyramids of Giza in 2,500 BC.

Gobekli is thus the oldest such site in the world, by a mind-numbing margin. It is so old that it predates settled human life. It is pre-pottery, pre-writing, pre-everything. Gobekli hails from a part of human history that is unimaginably distant, right back in our hunter-gatherer past.
---