The medical journal the Lancet has accused Pope Benedict XVI of distorting scientific evidence to promote Catholic doctrine following his remarks about condom use and HIV.

The attack — which also said that the pope did not know what he was talking about and had put millions of lives at risk — followed his statement last week during a visit to Africa that the use of condoms increased HIV infection rates. This was later amended by the Vatican, which said that condom use merely increased the risk of transmission.

The pope's remarks, made to journalists on a flight to Cameroon at the start of his visit, overshadowed his trip and provoked condemnation from health and aid agencies, as well as protests from the UN and the governments of Germany, France and Belgium.

Today's Lancet editorial said the Pope's statement was "outrageous and wildly inaccurate". It added: "By saying that condoms exacerbate the problem of HIV/Aids, the pope has publicly distorted scientific evidence to promote Catholic doctrine.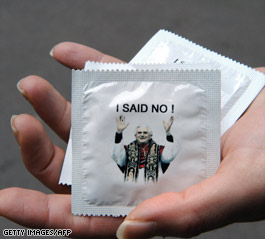 "Whether the pope's error was due to ignorance or a deliberate attempt to manipulate science to support Catholic ideology is unclear … When any influential person, be it a religious or political leader, makes a false scientific statement that could be devastating to the health of millions of people, they should retract or correct the public record. Anything less from Pope Benedict would be an immense disservice to the public and health advocates, including many thousands of Catholics who work tirelessly to try and prevent the spread of HIV/Aids worldwide."
Good thing The Lancet editors don't read the crap fountaining from the head-holes of American bible-thumpers. They'd have to increase the size of their publication just to keep up.
Thanks, K B
---