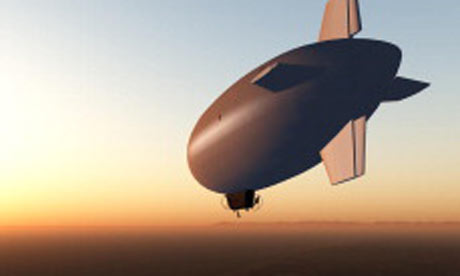 Plump sort of spy that should be ready first.
Police in the UK are planning to use unmanned spy drones, controversially deployed in Afghanistan, for the "routine" monitoring of antisocial motorists, protesters, agricultural thieves and fly-tippers, in a significant expansion of covert state surveillance.

The arms manufacturer BAE Systems, which produces a range of unmanned aerial vehicles (UAVs) for war zones, is adapting the military-style planes for a consortium of government agencies led by Kent police.

Documents from the South Coast Partnership, a Home Office-backed project in which Kent police and others are developing a national drone plan with BAE, have been obtained by the Guardian under the Freedom of Information Act.
Golly. You mean the British government wasn't keeping the public informed?
Daylife
/AP Photo used by permission
More serious hardware – a little bit later – possibly unarmed.
They reveal the partnership intends to begin using the drones in time for the 2012 Olympics. They also indicate that police claims that the technology will be used for maritime surveillance fall well short of their intended use – which could span a range of police activity – and that officers have talked about selling the surveillance data to private companies. A prototype drone equipped with high-powered cameras and sensors is set to take to the skies for test flights later this year.

The Civil Aviation Authority, which regulates UK airspace, has been told by BAE and Kent police that civilian UAVs would "greatly extend" the government's surveillance capacity and "revolutionise policing". The CAA is currently reluctant to license UAVs in normal airspace because of the risk of collisions with other aircraft, but adequate "sense and avoid" systems for drones are only a few years away.

Five other police forces have signed up to the scheme, which is considered a pilot preceding the countrywide adoption of the technology for "surveillance, monitoring and evidence gathering". The partnership's stated mission is to introduce drones "into the routine work of the police, border authorities and other government agencies" across the UK.
---