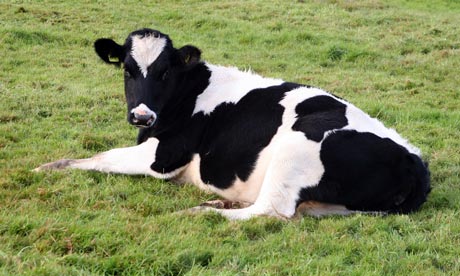 "This isn't from the MooOnion?"
A new study shows that the longer a cow has been lying down, the more likely it is to stand up, but the reverse is not true. Once up, you cannot predict how soon a cow will lie down again.

Are Cows More Likely to Lie Down the Longer They Stand? adds to our knowledge of what cows do and why they do it.

Some researchers succumb to temptation – hazarding unprovable guesses as to cows' intentions, motivations and desires. Five scientists in Scotland, though, took a careful path, methodically measuring a very specific part of the what, and not guessing too wildly at the why.

Bert Tolkamp, Marie Haskell, Fritha Langford, David Roberts and Colin Morgan, based at the Scottish Agricultural College, published their monograph in the journal Applied Animal Behaviour Science.

It builds upon a large body of work by other researchers. Some of the earlier reports have almost poetical titles. The best in that respect is (in my opinion, at least) a Swedish report called Effects of Milking Frequency on Lying Down and Getting Up Behaviour of Dairy Cows.
UPDATE: Cows! Beer! 40 pints PER DAY! Need you more to click here?

---