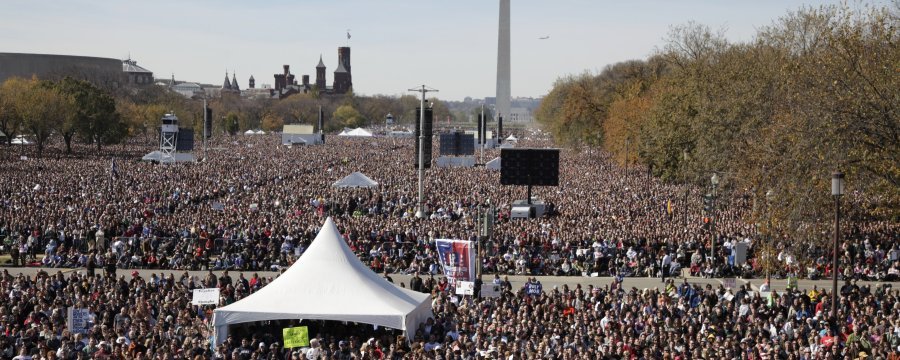 Deana Schupp, a cable company worker from Florida, stared out over the huge crowd on Washington DC's National Mall and had a sudden but welcome realisation. "When I see this crowd, I feel I am not alone. We are here for sanity and there are a lot of us," she said. It was, she admitted, her first protest march.

She definitely had company. Tens of thousands of people gathered here in what must surely be the strangest-titled mass protest ever held in America's capital: The Rally To Restore Sanity And/Or Hope.
[…]
The crowd was enormous – easily a quarter of a million people. As the masses listened to music and comedy routines broadcast from the tiny distant stage over giant screens all the way down the Mall, it was an impressive display of the power of comedy and celebrity. Whether it was a display of the power of American liberalism was much harder to say. Many observers saw the rally as a response to Fox News pundit Glenn Beck's recent "Restoring Honour" rally, which occupied the same space several months ago. That event, which attracted between 250,000 and 500,000 people, was seen as symbolising the rising power of conservatism.
---