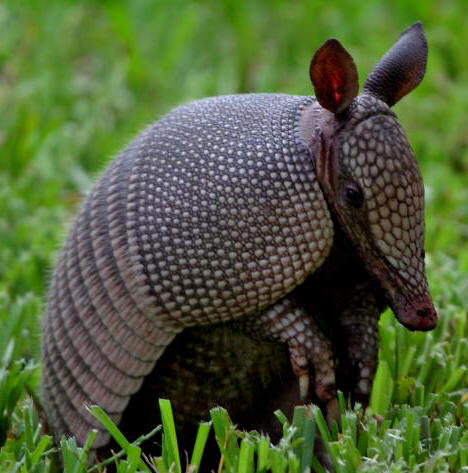 Every year, about 150 Americans are diagnosed with leprosy, a disease that disfigures the skin and affects the nervous system. Two-thirds of these people pick it up while traveling overseas, but the source of the remaining third has long been a mystery. Where did these patients, most of them from Texas and Louisiana, catch leprosy?

Research published Wednesday in the New England Journal of Medicine points strongly to an unlikely source — the armadillo…

This discovery has led some to compare leprosy to other infectious diseases that leaped from animals to humans. Many speculate that flu came from water fowl, and it's pretty well-established that HIV came from chimpanzees. But with leprosy, the opposite is true. We infected them.

Truman says there was no leprosy in the New World until European settlers arrived. Somehow armadillos contracted the disease, and now about 15 percent of armadillos carry it…

The more likely path to infection is by noshing on armadillo. "People become infected because of direct contact with raw armadillo flesh that has been butchered in some way or another," he says.

In Texas and other southern states, barbecued armadillo and armadillo chili are folk favorites. Avoiding handling and consuming armadillo meat will drastically reduce the already small risk posed by armadillos, Truman says.
I hope those of you inclined to eat armadillo – road kill or otherwise – will be careful.
---