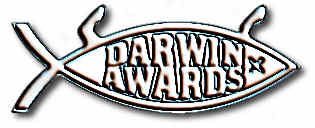 Oh Shit!
A man dressed in a military-style "Ghillie suit" who was attempting to provoke a Bigfoot sighting was struck by two vehicles and killed on U.S. 93 South of Kalispell Sunday night.

"He was trying to make people think he was Sasquatch so people would call in a Sasquatch sighting," Montana Highway Patrol Trooper Jim Schneider said. "You can't make it up. I haven't seen or heard of anything like this before. Obviously, his suit made it difficult for people to see him." "Alcohol may have been a factor," Schneider said. "Impairment is up in the air."

Tenley was on the southbound side of the highway, about a half mile south of the highway's intersection with Rocky Point Road.

"He was in the right-hand lane of travel and the vehicle was unable to avoid him and struck him," Schneider said of the first vehicle driven by a 15-year-old girl from Somers. A second vehicle driven by a 17-year-old Somers girl also struck Tenley as he laid on the highway.

A truly worthy recipient.