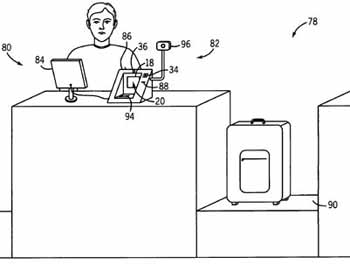 Apple's patent imagines travelers going through airport security with totally empty pockets. All travelers would carry is a phone.
[Apple's] 2008 patent application was approved in July and filed under the working title "iTravel." Hughes suspects the iTravel concept will be folded into Apple's Passbook app, which will be available for download on Wednesday. Right now, Passbook will store electronic versions of airline boarding passes which will automatically pop up on iPhone screens when you arrive at the airport. The phone knows where you are, thanks to geo-locator technology.
[…]
While each traveler waits in line, TSA agents would examine the electronic ID at an electronic viewing station.

Next, at the X-ray stations, a traveler's phone would confirm to security agents that the traveler's ID had already been checked. Throughout the process, the phone photo could be displayed on a screen for comparison with the traveler. Facial recognition software could be included in the process.