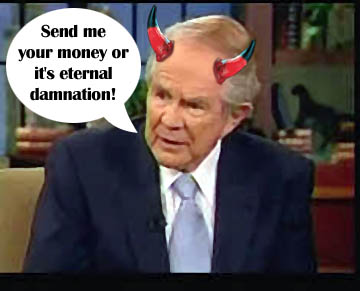 …Robertson, 82, stated on Monday that one should always pray over sweaters purchased from the local Goodwill in order to prevent demons from entering their house. It was a response to an email from a viewer named Carrie.
"I buy a lot of clothes and other items at Goodwill and other second-hand shops. Recently my mom told me that I need to pray over the items, bind familiar spirits and bless the items before I bring them into the house. Is my mother correct?" Carrie asked Robertson. "Can demons attach themselves to material items?"
Generally, one would respond to a question like that with a resounding "no." But for Robertson, this was a perfect opportunity to discuss the way second-hand clothes promote the Devil's bids for the souls of all good Christians.

After hearing Carrie's question, Robertson responded with the story of a Filipina girl who had purchased a ring second-hand. Apparently, a witch had invoked demonic spirits into the ring, and the object began somehow tormenting the girl until she prayed over it…
While Robertson admits a demon-possessed Goodwill sweater might be unlikely, he closed the statement by saying that, "Hey, it ain't going to hurt anything to rebuke any spirits that happened to have attached themselves to those clothes."
Especially if you've never gotten beyond the cave-dweller level of superstition.
That's not just an emotional reaction to this silliness, it's a bit of an educated analysis of Robertson's flavor of Christian fundamentalism. We're getting pretty close to the lowest common denominator of animism when you have to concern yourself about evil spirits living in a $5 second-hand sweater.