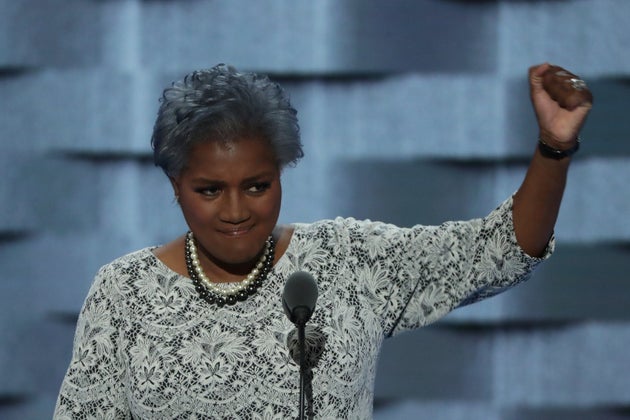 Hopefully the Dems will get it that you don't stick with a loser. Donna Brazile who helped Al Gore lose the 2000 election to Bush was also instrumental in bringing down Hillary Clinton as well. Donna Brazile was the one with the brilliant idea that Gore should distance himself from Clinton helping Gore snatch defeat out of the mouth of victory. This time she was caught cheating for Hillary by sneaking her debate questions ahead of time. The Democrat primary was in fact a rigged election. Some say, "Clinton would have won anyway even if the Democrat party didn't rig the election", but that backfires when people are just plain tired of the rigged system.
Huffington Post had this interesting article on the failure of Donna Brazile.
WASHINGTON ― On Thursday, Democratic Party officials held their first staff meeting since Hillary Clinton's stunning loss toDonald Trump in the presidential race. It didn't go well.

Donna Brazile, the interim leader of the Democratic National Committee, was giving what one attendee described as "a rip-roaring speech" to about 150 employees, about the need to have hope for wins going forward, when a staffer identified only as Zach stood up with a question.

"Why should we trust you as chair to lead us through this?" he asked, according to two people in the room. "You backed a flawed candidate, and your friend [former DNC chair Debbie Wasserman Schultz] plotted through this to support your own gain and yourself."

Some DNC staffers started to boo and some told him to sit down. Brazile began to answer, but Zach had more to say.

"You are part of the problem," he continued, blaming Brazile for clearing the path for Trump's victory by siding with Clinton early on. "You and your friends will die of old age and I'm going to die from climate change. You and your friends let this happen, which is going to cut 40 years off my life expectancy."
Brazile also worked for the campaign of Micheal Dukakis in 1988 and help bring him to defeat against the first President Busk. At one point Dukakis had a 20 point lead over Bush but Brazile put an end to that.
A Democratic presidential campaign official resigned Thursday after the Dukakis campaign disavowed her comment that "George Bush owes it to the American people to fess up" about a rumor concerning an extramarital affair that rippled through Wall Street on Wednesday.

Dukakis personally apologized to Bush for the remarks, made by deputy field director Donna Brazile, when the two candidates met Thursday night in New York for the Catholic archdiocese's annual fund-raising dinner.

Brazile told reporters accompanying the Democratic candidate that "the American people have every right to know if Barbara Bush will share that bed with him in the White House."
So – she was involved in the Democrats losing 3 presidential races. And yet they keep bringing her back. And they wonder why they lose elections.
BTW, more blame coming including the fact that Hillary Clinton is mostly responsible for her own failure. But I'm just laying this out one article at a time.