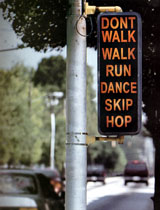 South Koreans may look at their mobile phones with some trepidation in the new year because prosecutors will start telling people they have been indicted via text messages, an official said Monday.

In a country where about 75 percent of the population carries mobile phones, prosecutors felt it was time to move away from sending legal notices on paper and send them electronically instead, said Lee Young-pyo, an administrative official.
Other notices that will be sent by text messages include information on fines and penalties.
It's easier, now, isn't it — having machines tell you what to do? Do not pass GO! Go to JAIL!