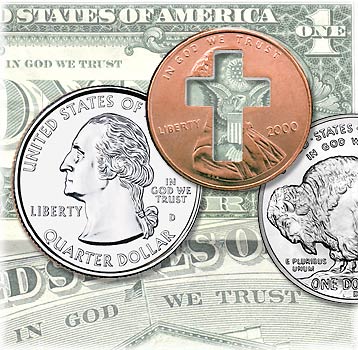 Like they had no idea someone might object? In Texas??
Coin image omits 'In God We Trust'

A Keller school district parent said political correctness has run amok at her daughter's elementary school, where the principal chose to omit the words "In God We Trust" from an oversize coin depicted on the yearbook cover.

Janet Travis, principal of Liberty Elementary School in Colleyville, wanted to avoid offending students of different religions, a district spokesman said. Students were given stickers with the words that could be affixed to the book if they so chose.

Debi Ackerman of North Richland Hills said she is offended by the omission. It's yet another example of a politically correct culture that is removing Christian references from all public places, she said.

"I think it's really ridiculous," said Ackerman, whose daughter Tawni, 10, took the book home Thursday afternoon. "Now it has come to this. … When is it going to end?"

She likened the situation to retailers that use "Happy Holidays" rather than "Merry Christmas" in their displays and advertising.