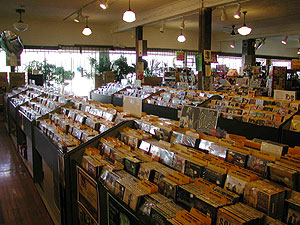 New York Times – April 5, 2007:
In the late '90s, our business, and the music retail business in general, was booming. Enter Napster, the granddaddy of illegal download sites. How did the major record labels react? By continuing their campaign to eliminate the comparatively unprofitable CD single, raising list prices on album-length CDs to $18 or $19 and promoting artists like the Backstreet Boys and Britney Spears — whose strength was single songs, not albums. The result was a lot of unhappy customers, who blamed retailers like us for the dearth of singles and the high prices.
Something had to be done to save the record store, a place where hard-core music fans worked, shopped and kibitzed — and, not incidentally, kept the music business's engine chugging in good times and in lean. Who but these loyalists was going to buy the umpteenth Elton John hits compilation that the major labels were foisting upon them?

But instead, those labels delivered the death blow to the record store as we know it by getting in bed with soulless chain stores like Best Buy and Wal-Mart. These "big boxes" were given exclusive tracks to put on new CDs and, to add insult to injury, they could sell them for less than our wholesale cost. They didn't care if they didn't make any money on CD sales. Because, ideally, the person who came in to get the new Eagles release with exclusive bonus material would also decide to pick up a high-speed blender that frappéed.
The major labels wanted to kill the single. Instead they killed the album. The association wanted to kill Napster. Instead it killed the compact disc. And today it's not just record stores that are in trouble, but the labels themselves, now belatedly embracing the Internet revolution without having quite figured out how to make it pay.