Marc Perkel, founder of the Church of Reality, a religion dedicated to the belief in everything that's real, is calling on Atheists to give up on God. Yes, you heard it right… that Atheists should give up on God.
In a letter posted on an Atheist discussion forum, the Church of Reality urges Atheists to switch from an anti-god position to a pro-reality position, stating that Atheists are more obsessed with God than most believers are. Atheism is about what isn't real. Realism is about what is real. Believers are more interested in what you believe in than what you don't believe in.
Here is the letter ….
The time has come for Atheism to Evolve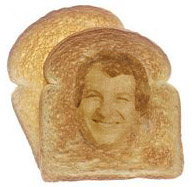 .
OK people, it's time for Atheism as we know it to die and move on to Realism. Atheism is stuck in the past because you haven't given up God until you quit obsessing on God.
1) Atheism is about nothing.
2) Atheists think about and talk about God more than believers.
3) Atheism answers none of the great questions about anything.
4) Atheism is stuck in the past.
5) Atheism is ineffective when it comes to converting believers.
6) Atheism is about Theism – thus the name A-Theism
I think you all can agree that when something isn't working it's time to try something else. It's time to move on. It's time to GIVE UP GOD!
What do we need to do? We need to be pro-reality rather than anti-god. Being pro-reality is far more effective.
Before I go on, this is not about getting anyone to join the Church of Reality. That's just my way of promoting reality. However, promoting reality is the right answer.
What is the basis of atheism? It's about God not being real. Note the reality test. When you say "God is not real," which is the important part, God or Reality? The important part is Reality because Reality is real and God is not.
Atheism causes brain damage and I will demonstrate the brain damage here. You know how you talk to Christians and no matter what you say, Christians don't get it? That's because Christians are brain-damaged by spending all their time thinking about what isn't real.
When I talk to Atheists about reality, they don't get it. That's because, like Christians, they spend all their time thinking about what isn't real. It's the same thing… and if you don't understand what I'm talking about here, it's because of the brain damage. You aren't going to get it until you truly give up God.
I find it frustrating that Christians have an easier time grasping Realism than Atheists do. I can explain it to a Christian and they not only get it but they are interested in it. It causes them to think. They at least understand it even if they aren't ready to embrace it. It starts a process. They respect the idea that the pursuit of reality really has value.
My world view is that you are what you think about. If you are thinking about God, you are one of THEM. If you are thinking about reality then you are one of US. And because Atheists think about God more that Christians do, they are actually more brain-damaged.
I have never been a believer so I don't have a reference for appreciating the God obsession. My way of comprehending Atheism is like my being in a recovery meeting with alcoholics who are all talking about not drinking. Since I'm not a drinker, not drinking isn't something I dwell on. I just don't drink. But my not drinking isn't the same as a drunk not drinking. So even though I'm an atheist, I'm not an ATHEIST!
The recovery from theism may be better described as having 2 stages. The first stage is to decide that the deity isn't real. That's the easy part. The second stage is to quit thinking about the deity. Atheism is good for the first stage, but it totally fails the second stage… so Atheism itself is critically flawed.
Believers are not interested in what you don't believe in. They are interested in what you do believe in… and Atheism offers NOTHING when it comes to what to believe in. So that's what Atheism is proving to be… a failed strategy.
What should Atheists believe in? That's easy. You can believe in what the Church of Reality believes in. Believe in everything that is real. Switch from being anti-God to pro-reality. Lose the A-Thiest identity. Change the name. Change the mission.
Atheists of Silicon Valley should become Realists of Silicon Valley. San Francisco Atheists should become San Francisco Realists. East Bay Atheists should become East Bay Realists. It changes the message. To be a Realist means that it's about reality. To be an Atheist means that it's about God. I am asking Atheists today to GIVE UP GOD! It's time to get GOD out of the name ATHEISM that defines who you are!
So – how many of you Atheists out there are ready to give up God and go out and start winning souls for Darwin? If you truly believe in evolution – then let's evolve!
---