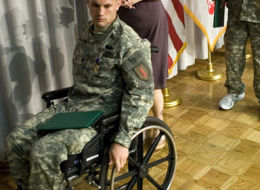 Trial balloons are a mainstay of Washington. Tell a reporter, hear the public reaction, then kill it or move forward. What idiot in Obama's circle thought this would get anything but derision and anger? Can you imagine how enlistments will decline if this is done? Our injured vets deserve our country's best. Period. On the other hand, gotta pay for those AIG bonuses somehow…
Democrats in Congress are organizing to squash a White House proposal that would require veterans to use private insurance to pay for treatment of their combat and service-related injuries.

In a letter being sent to the White House, a group of House Democrats, led by Rep. Glenn Nye (D-VA), warned that such a proposal "could harm our veterans and their families in unintended, yet very serious ways, jeopardizing their families' health care and even negatively affecting veterans' employment opportunities."

"While we strongly support your plans to increase funding for the VA by $25 billion over the next five years," the letter reads, "it is with equal conviction that we oppose the proposal to bill veterans' private health insurance plans for care and treatment of service-connected injuries or disabilities."
[…]
Veterans groups say they're concerned that the Obama proposal could ultimately lead to the privatization of health care for returning soldiers, and note that third-party billing for war-related injuries could result in ballooning insurance costs.
Where are the Republicans, those defenders of all things military, in complaining about this?
---