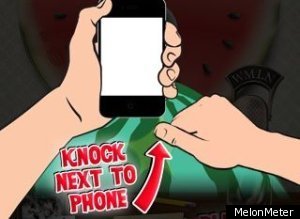 Ain't technology great? What's the weirdest app you've got, heard of, wish existed?
As a tech writer, I get pitched a lot of bizarre, head-scratch-inducing apps. But this afternoon, I received what is perhaps the strangest one yet: An app that uses the iPhone's microphone to detect whether or not a watermelon is ripe when you knock against it.

Yes, it's a watermelon ripeness detection app, and it is available now in the app store. No, this is not a joke (as far as we can tell, anyway), and yes, it costs $2. Ladies and gentlemen, prepare to knock the ever-loving pulp out of your watermelon while holding your iPhone next to it, because the Melon Meter is here. (Note: Android version not available).

After you've downloaded Melon Meter and reexamined your life and very existence, you are ready to use the Melon Meter. The app first takes you into a Melon Meter tutorial before it allows you to use the meter, because God forbid someone use this thing incorrectly.
After 2 years of research and development [editor's note: Two years?!?!], we have developed a tool that will help you find the most ready to eat melon in the store. This tool, or software algorithm, allows the iPhone to analyze the decay rate (the time it takes for a sound to end) of the signal produced by thumping a melon. We have determined that "ready" melons have a unique "decay signature." Melon Meter analyzes the sound, and tells you if you have found a melon with the "decay signature" that corresponds to a "ready" melon.
---