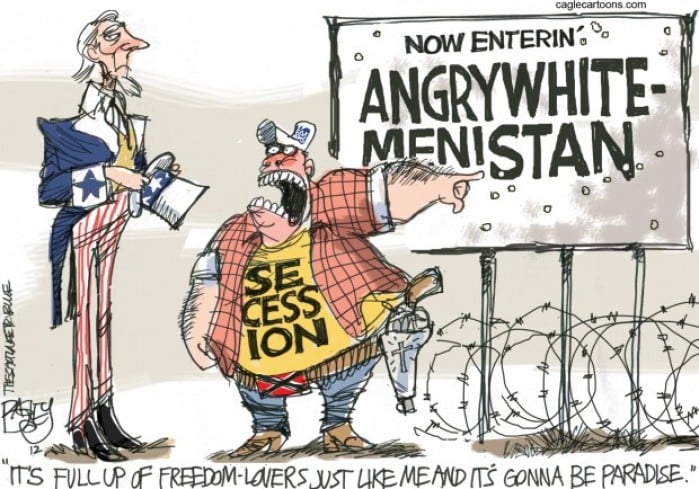 Gov. Greg Abbott signed legislation that will create a state-run gold depository in the Lone Star State – one that will attempt to rival those operated by the U.S. government inside Fort Knox and the Federal Reserve Bank of New York's vault in lower Manhattan. "The Texas Bullion Depository," Abbott said in a statement, "will become the first state-level facility of its kind in the nation, increasing the security and stability of our gold reserves and keeping taxpayer funds from leaving Texas to pay for fees to store gold in facilities outside our state."
Soon, Abbott's office said, the state "will repatriate $1 billion of gold bullion from the Federal Reserve in New York to Texas." In other words, when it comes preparing for the currency collapse and financial armeggedon, Abbott's office really seems to think Texas is a whole 'nother country.
And the new depository will not just be a well-guarded warehouse for that bullion. The law Abbott signed calls for the creation of an electronic payments system that will allow gold, silver, platinum, palladium, and rhodium depositors to write checks against their accounts, making the depository into a bank – one that will create a metal-backed money supply intended to challenge the paper currency issued by the Federal Reserve – or "Yankee dollars" as one of the law's top supporters calls them.

In case the Fed or Obama wants to confiscate Texas's gold, nice try Fed and Obama! In keeping with this suspicion of the Fed and Washington, the new law also explicitly declares that no "governmental or quasi-governmental authority other than an authority of [Texas]" will be allowed to confiscate or freeze an account inside the depository. Gold that's entrusted to Texas will stay in Texas…
The depository, then, will insulate Texans from a just-around-the-corner economic and geopolitical catastrophe brought on by paper money and cauterize the seemingly-still-fresh trauma of Franklin Roosevelt's 1933 executive order making gold coin hoarding illegal during the Great Depression.

But to the trained ear, there's an even more aggressively anti-Fed term being invoked in praise of the Texas depository: "repatriation." Ordinarily it's a word used to describe the movement of assets or currency from one nation to another…On the website of SchiffGold, the gold brokerage owned by onetime U.S. Senate candidate Peter Schiff…Texas is described "join[ing] the ranks of major global economies that want to bring their gold home from New York."…
If you were suspicious about Gov. Abbott's claim that "the [depository] law will repatriate $1 billion of gold bullion from the Federal Reserve in New York to Texas," you were on to something.

Indeed, Texas has no gold bars in the Federal Reserve's New York vault. And what the state has is not worth a billion dollars. Instead some 4,200 gold bars bought in 2011 by the University of Texas's endowment fund…are stored in the basement vault of HSBC's headquarters at 450 5th Avenue in New York City…
Although most of the political crappola involved in creating this fiasco relied heavily on Texas' ever-present threat to secede from the United States – and take their non-existent gold mountain with them – in truth there are pages of silliness written in libertarian dialect privatizing every possible function of this new and independent Fort Knox. The obvious aim of this boondoggle is the selling of gold to nutballs who believe that owning gold is the only salvation against Armageddon.
Thanks to my favorite Recovering Republican